For many years the N-Trak club to which I belong (
NEONS
, the North East Oklahoma N-Scalers) kept its head in the sand when it came to DCC. Because very few of us had decoder equipped engines, we both resisted and avoided it. However, as DCC became more and more commonplace and our members began to acquire and/or convert some of their locomotives to DCC, it became clear that we needed get with the program, move into the 21st century and get some of them thar new-fangled DCC thing-a-ma-jigs for both our permanent layout and our show layout. Our first decision was to select Digitrax as the manufacturer of choice since their equipment was used at most shows we attend.
NEONS
has a very large travelling layout plus a small, 8-module layout that is semi-permanently set up at our sponsor's train store. The store layout benefits both our club and our sponsor since it allows club members to run trains whenever the store is

open and provides the store with a place for customers to test new or potential purchases. This store layout was powered by three MRC Tech II Railpower 2500 power packs (one each for the red, yellow and blue lines.) We added a Digitrax Zephyr DCC system and built a panel with three toggle switches, thus allowing operators to toggle between DCC and the assigned DC power pack on each of the three lines (See Figures 1 and 1a).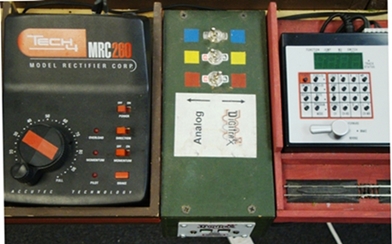 Early research and experience by clubs across the country led to a few rules of thumb. The first and most critical rule is that a Digitrax power distribution line should never extend more than 50' in either direction from the power source. The longer the distribution line, the more resistance there is, and the more the signals degrade. Because our show layout loop is usually between 150' and 240' long, we decided to break our layout/loop into three blocks and locate a power supply near the center of each block so that the distribution lines never exceed the 50' guideline. We initially installed Digitrax equipment only on the red line of our travel layout so we could tie into the Red Line Route™. The other two lines remained powered with Aristo-Craft wireless DC throttles. Eventually, the flexibility we became used to on our store layout led us to develop a similar system for shows. Since we nearly always link up with other clubs at shows to form a multi-loop layout using the Red Line Route™ format (which is exclusively Digitrax DCC), we only need to offer the choice of DC / DCC on the yellow and blue lines. (The
NEONS
do not have the mountain line on any of our modules.)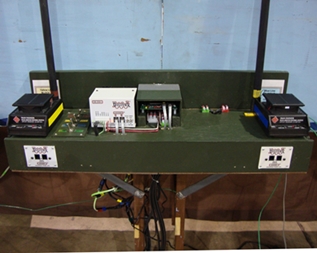 Using the
North Raleigh Model Railroad Club's
design as a base, we constructed three custom power boxes, each with a Digitrax 8 amp DB200 booster, a Digitrax PM42 to split the DCC power to the Red, Yellow, Blue and Green lines, two UP-5 loconet interconnects, and two Aristo-Craft DC analog power receivers and antennas that receive signals from our Aristo-Craft wireless remote throttles. Each box is powered by a Digitrax 2012 20-amp power supply that feeds the Digitrax and the Aristo-Craft units and also has two wall warts, one for the PM42 and one for the UP-5s. In order to protect the power equipment and all engines on the layout, each of the three units in each box (two Aristo-Craft receivers and one Digitrax DB200) is fused on both the inlet and outlet side. We keep a large supply of fuses just in case! (Figures 2-8 and Diagrams 1-4).