Module Name:

Beucher Farm

Diorama:

Mates with either side of Basetball for junction assembly

Owner Name:

NEONS

Sponsor:

Razor

Date Built:

2005

Date Updated:

Status:

Active

Module Type:

4' Universal Flexi-Junction Transition module / 4' standard module
| | | | | | |
| --- | --- | --- | --- | --- | --- |
| Length: | 4' | Width: | 2' | Skyboard: | 12" laminated and hinged to fold down |
Track

Code:

80

Brand:

Atlas

Turnouts:

2 Peco long

Crossovers:

none

Passing Sidings:

none

Yard Tracks

none

Industrial Spurs

none

Other Tracks

none
Electrical:

Wire

Connector

110V

Designer:

Razor

Red

12 gauge

PP-30

Yes

Carpentry:

Kroutter

Yellow

12 gauge

PP-30

Yes

Track:

Razor

Blue

12 gauge

PP-30

Yes

Wiring:

Razor

Other

Scenery:

Fearless Leader
DCC Equipment:

none

Powered Accessories:

none

Scenery:

Oklahoma Scene:

Route 66 Scene:

Prototype RR:
Track Plan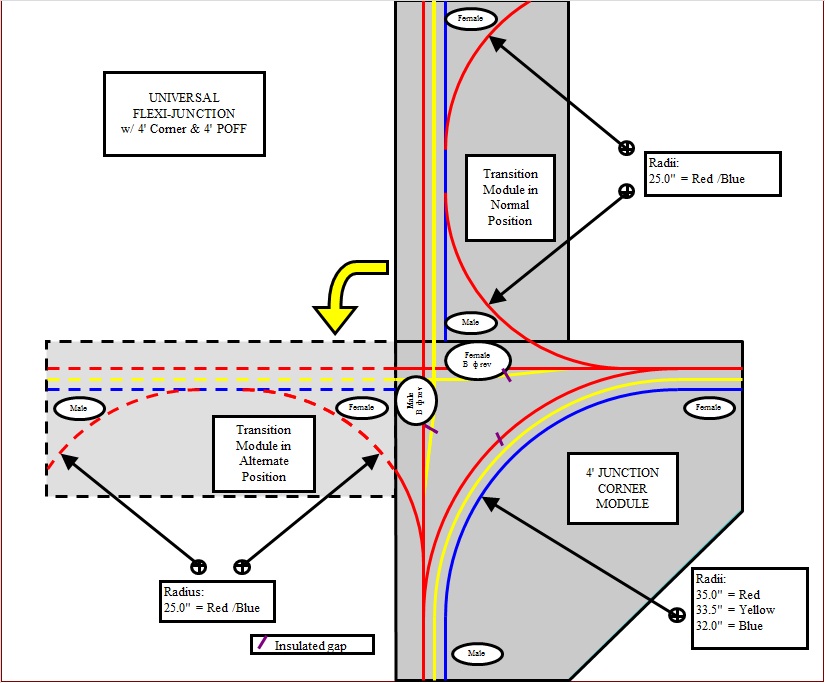 Sign Board
The "Dust Bowl" days are now history and life has returned to normal in central Oklahoma. This farm scene shows new crops sprouting from the red, Oklahoma soil. The crops are being pollinated by several bee hives brought in especially for that purpose.
Description & History
As an junction transition module, Beucher Farm can function as part of the junction assembly or can serve as a stand alone 4' module. When used in the junction assembly, it is part of the spine between two loops and therefore should not have a skyboard. To provide that flexibility, the skyboard is hinged and has three bolts that hold it in position. When the bolts are removed, the skyboard folds back and down out of view. A special curved joiner track is required to connect the active side of the curved blue line to its junction module. Beucher Farm is named in memory of a deceased model railroader whose widow donated everything on his layout that the NEONS could salvage. The barn came from that layout.