Module Name:

Football

Diorama:

Mates with Skeet Shoot to form junction assembly

Owner Name:

NEONS

Sponsor:

Razor

Date Built:

2006

Date Updated:

Status:

Active

Module Type:

4' Universal Flexi-Junction corner
| | | | | | |
| --- | --- | --- | --- | --- | --- |
| Length: | 4' | Width: | 4' | Skyboard: | 12" laminated |
Track

Code:

80

Brand:

Atlas

Turnouts:

5 Peco long

Crossovers:

none

Passing Sidings:

none

Yard Tracks

none

Industrial Spurs

none

Other Tracks

none
Electrical:

Wire

Connector

110V

Designer:

Razor

Red (left)

12 gauge

PP-30

Carpentry:

Kroutter

Red (right)

12 gauge

PP-30

Track:

Razor

Yellow

12 gauge

PP-30

Wiring:

Razor

Blue

12 gauge

PP-30

Scenery:

Razor
DCC Equipment:

Two UP-5s and a 4-way Loconet splitter

Powered Accessories:

Two Peco turnout actuators. A pair of wires can be connected to the accessory terminals of an idle power pack to power the actuators. The actuators are activated by three momentary DPDT toggle switches. One wall wart powers the two UP-5s

Scenery:

Oklahoma Scene:

Route 66 Scene:

Prototype RR:
Track Plan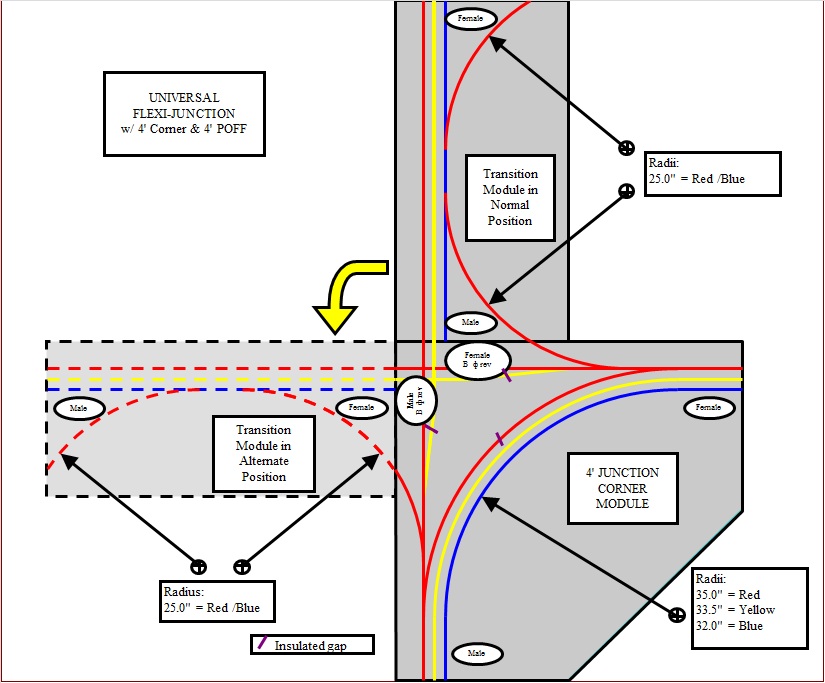 Sign Board
High School football is big in Oklahoma and our town's football field is being groomed and made ready for the 1957 season. Oklahoma is mostly rural, with small towns that are too far apart for consolidated school districts. These smaller schools play 8-man football as opposed to the 11-man version played at larger high schools. Prior to 1958, goal posts were the 'H' style and sat at the back of the end zone. Back then, running a post pattern could get your bell rung! Old Glory flies high on the flag pole, its 48 stars and 13 stripes flapping in the breeze just above the Oklahoma State flag.
Description & History
In 2006 we designed and built our second junction and link module pair. The Junction module, Football, is a 4' square with junction connections incorporated so the module can be used on the left hand side or the right hand side or it can be used as a normal 4' corner module. It connects to a link module, Skeet Shoot, which is a standard 4' module that has a curve off the blue line in both directions to tie in the red return line. It can be placed on either side of the junction to make it left hand or right hand. These modules can be used as a regular corner and POFF module anywhere in the layout if we're not linking to another club's layout. Turnouts to the spine are controlled by Peco actuators. Three momentary toggle switches are located at key positions on the fascia board. This Flex-junction design allow us to keep red line trains on our loop by simply toggling the switch, thereby allowing us to take a couple of laps on our own loop to shake down a train, pull bad order cars, etc. before heading out along the RLR. The football field is true to scale, 100 scale yards from goal line to goal line.