Module Name:

Glennville

Diorama:

Paired with Lenard to make a dogbone layout loop

Owner Name:

Brutus

Sponsor:

Brutus

Date Built:

2013

Date Updated:

Status:

Active

Module Type:

4' Balloon module
| | | | | | |
| --- | --- | --- | --- | --- | --- |
| Length: | 4' | Width: | 2' 5" | Skyboard: | 12" plywood |
Track

Code:

80

Brand:

Atlas

Turnouts:

none

Crossovers:

Red to Yellow

Passing Sidings:

none

Yard Tracks

none

Industrial Spurs

none

Other Tracks

none
Electrical:

Wire

Connector

110V

Designer:

Razor

Red

12 gauge

PP-30

Carpentry:

Yellow

12 gauge

PP-30

Track:

Brutus

Blue

12 gauge

PP-30

Wiring:

Brutus

Other

Yes

Scenery:

Brutus
DCC Equipment:

none

Powered Accessories:

none

Scenery:

Oklahoma Scene:

Route 66 Scene:

Prototype RR:
Track Plan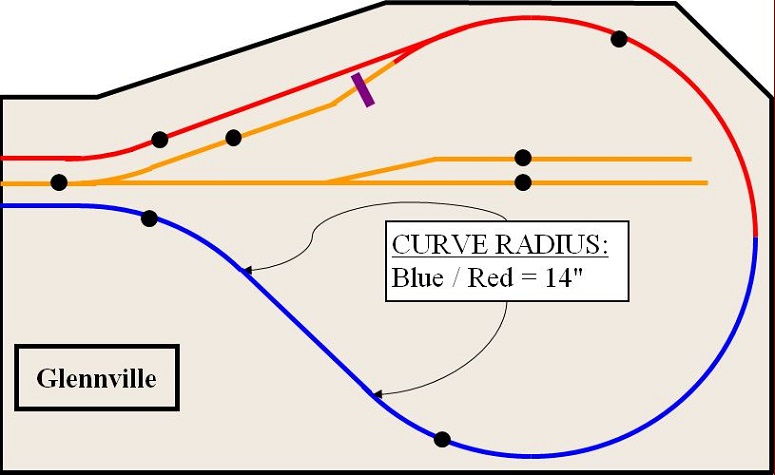 Sign Board
The town of Glennville is an old, generic heartland village located inside a railroad turn-around loop. Some of the town's buildings were crafted by master modeler Bill Clifford. Many of Bill's finely detailed dioramas were donated to the NEONS after his passing.
Description & History
This module was our first balloon module. Along with its mate, Lenord, the two modules make the red and blue lines a dogbone loop with the yellow line acting as a siding off the red line to serve industries inside each loop. With 14" radius curves, the module is not designed to handle 6-axle engines or long cars, but rather 4-axle engines and 40' - 50' cars.