Module Name:

Grain Elevator

Diorama:

Owner Name:

Glenn Roman

Sponsor:

Glenn Roman

Date Built:

2017

Date Updated:

Status:

Active

Module Type:

4' standard module
| | | | | | |
| --- | --- | --- | --- | --- | --- |
| Length: | 4' | Width: | 2' | Skyboard: | 12" plywood |
Track

Code:

80

Brand:

Atlas

Turnouts:

five #6 (4 Peco, 1 Atlas)

Crossovers:

none

Passing Sidings:

blue liine

Yard Tracks

none

Industrial Spurs

three

Other Tracks

none
Electrical:

Wire

Connector

110V

Designer:

Glenn Roman

Red

12 gauge

PP-30

Carpentry:

Glenn Roman

Yellow

12 gauge

PP-30

Track:

Glenn Roman

Blue

12 gauge

PP-30

Wiring:

Glenn Roman

Other

Yes

Scenery:

Glenn Roman
DCC Equipment:

UP5

Powered Accessories:

wall wart for UP5

Scenery:

Oklahoma Scene:

Route 66 Scene:

Prototype RR:
Track Plan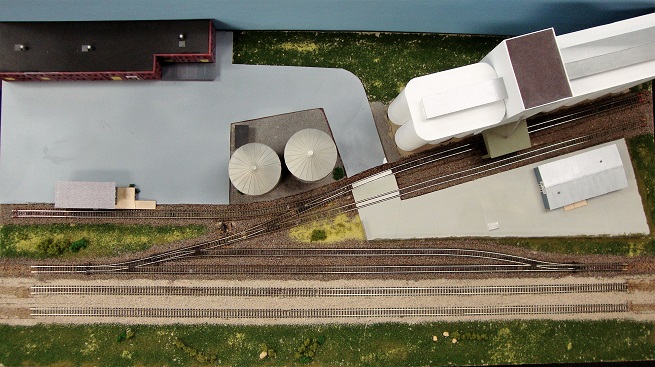 Sign Board
One of the primary clients of Midwestern and great plains railroads were grain elevators. Oklahoma farmers would harvest their wheat, corn, oats, and pecans, load them onto farm trucks, and then haul them to the nearest grain elevator. There the crops would be stored until they could be loaded into box cars (and in later years, grain hoppers) for shipment. These elevators were often found every few miles along the railroad's right-of-way. Since paved highways usually paralleled the train tracks, small rural communities with schools, churches, and a store or two often developed near the elevators. The small Oklahoma towns like Afton, Fairland, and Chelsea still exist, but the grain elevators are now much larger and farther apart, requiring farmers to truck their harvest a much longer distance.
Description & History
Ths module has a short siding plus two spurs for the grain elevator and one for the loading dock.