Module Name:

Og's Bison & Wooly Mammoth Farm

Diorama:

Owner Name:

NEONS

Sponsor:

Club

Date Built:

2012

Date Updated:

Status:

Active

Module Type:

4' narrow corner module
| | | | | | |
| --- | --- | --- | --- | --- | --- |
| Length: | 68" | Width: | 25.5" | Skyboard: | 12" laminate |
Track

Code:

80

Brand:

Atlas

Turnouts:

none

Crossovers:

none

Passing Sidings:

none

Yard Tracks

none

Industrial Spurs

none

Other Tracks

none
Electrical:

Wire

Connector

110V

Designer:

Fearless Leader

Red

12 gauge

PP-30

Carpentry:

Razor

Yellow

12 gauge

PP-30

Track:

Razor

Blue

12 gauge

PP-30

Wiring:

Razor

Other

Yes

Scenery:

Fearless Leader
DCC Equipment:

Two UP-5s. One on the front and one on the back of module.

Powered Accessories:

one wall wart to power the two UP-5s

Scenery:

Oklahoma Scene:

Route 66 Scene:

Prototype RR:
Photo of new Og's Bison Farm coming soon.
Old version of Og's Bison Farm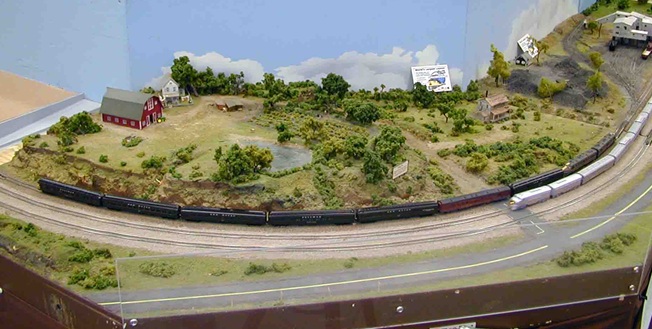 Sign Board
Not all of Oklahoma suffered from the infamous Dust Bowl. Tulsa and the surrounding area was (and still is) called "Green Country" because of its moderate climate and good soil. The family farm was a mainstay of life in the early decades of statehood, and this diorama pays homage to those folks "down on the farm." Daily life in rural Oklahoma meant long hours and hard work, including the normal activities like laundry, garden hoeing, plowing and milking the cow. If you look closely you can also see the dog chasing the cat, the pigs keeping cool, ducks and geese, and MAYBE... an exotic animal or two. Roger Miller was wrong. You can roller skate in a buffalo herd! And that highway... that's the Mother Road, Route 66, replete with Burma Shave signs.
Description & History
For nearly 25 years one of our original 4' corners and one of our most popular scenes was Og's Farm, but time took its toll and we finally had to retire the module. Since it was so popular, and displayed an Oklahoma scene along Route 66, it was a "no-brainer to re-created it on one of the new, narrow 4' corners we built in 2012. Besides having a buffalo herd and a wooly mammoth (as the title indicates), it also has many barnyard animals and demonstrates several of the chores associated with a post depression era family farm in northeastern Oklahoma.