Module Name:

Tourist Trap

Diorama:

Owner Name:

NEONS

Sponsor:

Razor / Fearless Leader

Date Built:

2005

Date Updated:

Status:

Active - Needs fence to keep cattle off of tracks and highway

Module Type:

6' narrow inside corner module
| | | | | | |
| --- | --- | --- | --- | --- | --- |
| Length: | 102" | Width: | 24" | Skyboard: | 12" laminate |
Track

Code:

80

Brand:

Atlas

Turnouts:

3 Peco long

Crossovers:

none

Passing Sidings:

none

Yard Tracks

none

Industrial Spurs

none

Other Tracks

none
Electrical:

Wire

Connector

110V

Designer:

Razor

Red

12 gauge

PP-30

Carpentry:

Kroutter

Yellow

12 gauge

PP-30

Track:

Razor

Blue

12 gauge

PP-30

Wiring:

Razor

Other

Yes

Scenery:

Fearless Leader
DCC Equipment:

none

Powered Accessories:

none

Scenery:

Oklahoma Scene:

Route 66 Scene:

Prototype RR:
Track Plan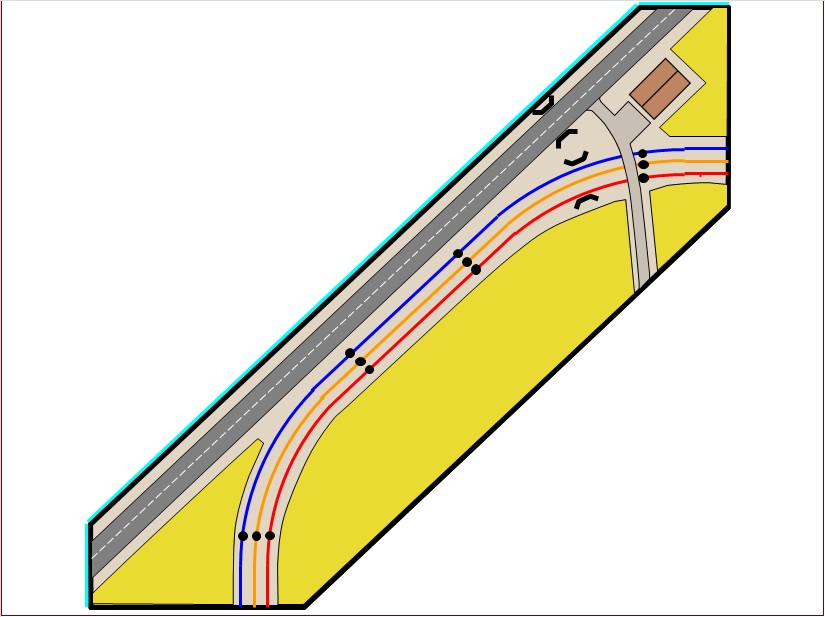 Sign Board
It's 1958 and U.S. Route 66 meanders across the western Oklahoma plains, paralleling the Rock Island Line tracks. There is a Conoco gas station and diner along side the road. Cattle graze on the sparse vegetation growing in the arid, red Oklahoma clay and an Oklahoma Highway Patrol car hides behind the large Conoco sign waiting for the next speeding vehicle with California plates.
Description & History
Most inside corners are a standard 4' corner with the sky-board on the other side. In order to have large radius turns, the tracks are at the back which require a 4' or 6' transition module on each end to swing the tracks to the rear. We took a different approach and built a one piece, 6' inside corner. This design allows for smooth, large radius turns (29" on the red line and 32" radius on the blue line) without the need for transition modules. The module is a standard 2' deep, but is 8 1/2' long from tip to tip. The narrow depth makes it easier to move the module through a standard width door. This module debuted at the 2005 OKC Train Show.