The
NEONS
are an N-scale model railroading club located in Tulsa, Oklahoma. Our sponsor is Challenger N-Scale Hobbies (CNS). We are co-housed with CNS and maintain a small N-Trak layout at: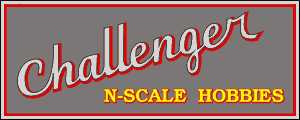 8753 S. Lewis, Suite B
RiverBend Center
Tulsa, Oklahoma 74137
(918) 298-4800
Map
The club is open during store hours. Visitors are always welcome.
Tuesday & Wednesday:
Thursday:
Friday:
Saturday:
5 p.m. to 8 p.m.
Noon to 8 p.m.
Noon to 6 p.m.
10 a.m. to 4 p.m

NEONS
meetings are held at the CNS store and begin at 7:30 pm the 2nd Wednesday of every month. The obvious purpose of the club is to support and encourage N-scale model railroading. We do this by holding regular monthly meetings, building club owned N-Trak modules and by assembling and operating our N-Trak layout at public venues. We work in harmony with
TNT
(Tulsa N-Trak), and usually combine their modules with ours to form larger and more impressive layouts at shows.
The club has two rules as follows:
Rule #1. THERE ARE NO RULES OTHER THAN THIS RULE AND RULE #2.
Rule #2. YOU CANNOT CHANGE RULE #1.
Please contact us through our website at www.tulsa-neons.com, our email address at
challenger@challenger-n-scale.com
, by phone at (918) 298-4800 or stop by the store and see us in person.