Download complete Razorville Plans
A couple of years ago a member of the
NEONS
model railroad club (NorthEast Oklahoma N-Scalers) suggested it might be nice to have a small, portable layout that could be taken to shows by as few as two people. The requirements were the layout had to be able to fit in the back of an SUV, be easy to set up and tear down, demonstrate the potential of N-Scale, and provide the operating flexibility of both continuous running and switching.

Seldom being able to ignore such a challenge, I designed Razorville, a two-module portable layout. Each of the two modules is 6' x 3½', making the layout 6' x 7' and providing 42 sq ft. of usable space. Each of the two modules will easily fit in the back of an SUV when the rear seats are folded down. An additional benefit of this layout design is that it will fit in the center of a 10' x 11' bedroom with a 2' aisle all the way around. Note that all tracks and switches are located within 2' of the edge of the layout, providing easy access by the operator to activate switches and to couple/uncouple rolling stock. The modules are designed to serve as a stand alone layout, but have stub lines (shown in green) at three of the corners. These stubs can be connected to other modules such as an N-Trak junction module or a one-trak module, thereby allowing trains to move on and off the layout. The track plan was developed with 4-axle diesel engines and 40' cars in mind, but with 20" and 18½" radius curves on the main loops, it will handle passenger cars and medium sized steam engines with no problems. Curve radii in the stub yard range from 17" down to 13¼". Main line tracks are on 1½" centers and yard tracks are on 1¼" centers. The outer loop (red) is 21' around and the inner loop (blue) is 20' around. The layout is designed anticipating Peco medium and long turnouts, but it can be (and has been) built with Kato Unitrack switches. It requires about 105' of flex track and 39 turnouts (10 LH long, 12 RH long, 9 LH medium & 8 RH medium.) There are no grade changes on this layout. The entire setup can be powered by one Digitrax Zephyr unit. For operations, a Digitrax UP-5 should be mounted on each of the four sides of the layout. There are no reverse loops, so track wiring is very simple.

Besides the two 20'+ long loops that allow continuous running, operating opportunities are provided by nine industrial spurs serving ten businesses including a grain elevator, lumber yard, scrap metal yard, propane & heating oil supplier, bakery, brewery, manufacturing plant, assembly plant, feed & seed store and a warehouse. In addition there is a passenger depot, a freight depot, a 4-track stub yard (each 6'+ long yard track can hold 19 -24 cars), a drill track, engine service track, caboose track, yard tower and office, coaling tower, water tank, diesel storage tank, sanding facilities, 3-bay roundhouse w/ 120' turntable, 2-bay diesel shop and fabrication shop. Trains can continually run around both the red and blue lines while a local freight can sort cars in the yard, then deliver and pick up cars at the ten industries. Through trains can pull onto the drill track, dropping and picking up cars for movement on/off the layout. With the fully operational diesel and steam facilities there are also the added activities of servicing locomotives and changing crews.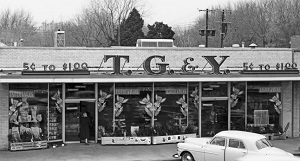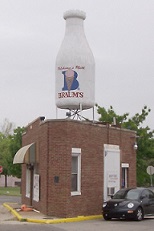 The scenery is generic and can be made to represent any geographical location during any era. Ideally, it will be a small, heartland USA town around 1960. The two hills are designed to provide a scenic break so that activities on all four sides of the layout appear separate and somewhat isolated from each other. A city park sits atop the corner hill and contains a bandstand, picnic area and an old-time steam engine. The area underneath that hill is hollowed out to provide a place for the DCC equipment and to access the tunnel tracks. Note that the residential areas climb the hill so houses can be seen over the downtown buildings. Modeling opportunities abound and include a tunnel, bridge, creek, cliff, woods, park, industrial area, residential area, and downtown area. The only modeling challenge that is not included is a pond, but that could be added near the hobo camp. It is recommended that the two modules be equipped with three ½" dowel pins to aid in alignment during set-up. The modules should be held together with two 3" C-clamps. All tracks crossing the module interfaces should be trimmed back 2½" from the edge of each module so that Atlas 5" straight track sections can be inserted to tie the two modules together in the same manner that N-Trak modules are connected.
Highlights include:
2-track main
3 interchange lines to other layouts
9 sidings serving 10 industries
passenger siding w/ depot
town area (Razorville)
hilly area for scenic break
passenger siding that holds a 5' long passenger train
freight depot

4 track yard + caboose track, engine service track & yard drill track
9" turntable (120 scale ft)
2-bay diesel shop
3-bay roundhouse w/ fabrication shop
yard tower & office w/ parking
coal, water, sand & diesel fuel facilities

10 industries w/ rail spurs
power supplies hidden under corner hill
village with downtown, residential & industrial areas
30+/- businesses w/o rail service
13 houses along steep hill so they can be seen behind downtown buildings.
city water tower atop central hill
city park atop corner hill
Scenic features include:
creek, bridge
tunnel, cliff
hobo camp, church
gas station, tavern
office buildings (2)
court house, library, Post Office
city water tower atop hill
13 residential houses

26 downtown buildings (two Woodland Scenics "Scenic Ridge" 13-building packages + extras as needed)
lots and lots of trees!
center hill has cliff face along Razor Road and is at least 6" high along its ridge line

area atop corner hill is a city park, w/ bandstand, picnic area and an old-time steam engine
area under city park hill provides access to tunnel tracks and houses DCC equipment
heating oil building near turntable houses turntable controls.
Download complete Razorville Plans